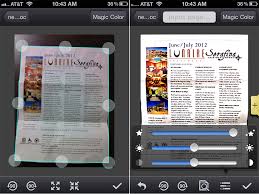 How many times have you been asked to send over a scanned document on the road with no access to your own home or work scanner and nary a FedEX kinkos in sight!?
You have to get down with the free iPhone app CamScanner which essentially turns your iPhone into a scanner!
With it, you can quickly scan, merge, password protect, share, tage and even upload a document into the cloud.  The app is even supported by Dropbox, Google Docs (Drive), Evernote, and Box.net.
The only setback with the free version of the app is that a tiny watermark on the lower right "Generated by CamScanner" appears on your document which is fine if you are scanning a personal document, but not for business ones.
If you're running a biz, you should quit being cheap upgrade to the premium at the cost of a venti latte at Starbucks, anyway.
The paid version cost $4.99.
CamScanner  lets you take a high-resolution picture of your subject or document, and then scan the image.  It even works on shaky hands or on off center images.
The app is so good it can apparently  detect edges and rectangular items and crops it for you without having to ask.
It's that smart!
Download Card Scanner from the Apple store today for FREE!