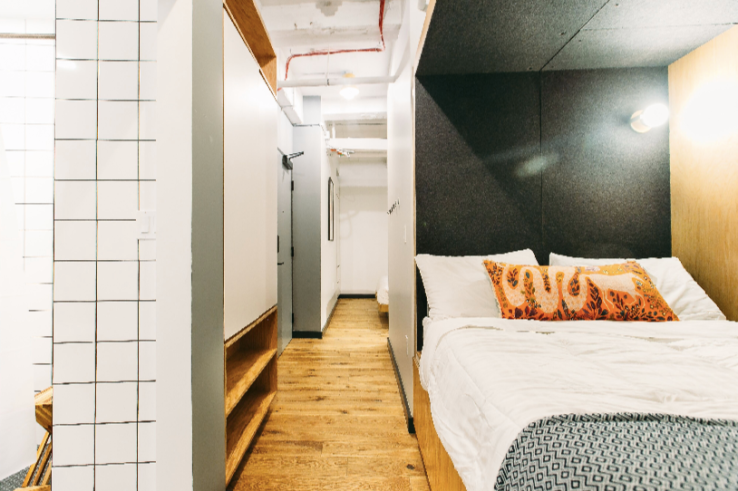 This highly successful co-work group just launched a new co-living option which would be ideal for those starting out or starting over in life
If you were to graduate from college and want to live in New York City or Washington, DC, you'd be looking at a pretty hefty price tag for monthly rent. The average cost of a two bedroom apartment in NYC is close to $4,000, add the cost of furniture and amenities and we're getting into close to $6,000 just to move in. One of those furnished hotel executive suites would cost close to $5,000 a month too.
It can be cost-prohibitive for a lot of college graduates and even for those transitioning in life after a divorce, or some other life change that requires starting over.
Now, what if there was an option to rent a furnished room in an apartment you shared with others? The founders of WeWork co-working spaces are branching out and offering shared apartment spaces as part of its new venture WeLive. They've already started renting out units in one building in Manhattan and just last month, launched its DC operations.
WeLive launched in New York city at 110 Wall Street, the same building which houses its WeWork offices in the Financial District. Studio spaces, 1, 2, 3 and 4 bedroom spaces serve up to 8 people. The units are rented on a month-to-month basis for maximum flexibility.
The two bedroom studio plus starts at $1375 per month but comes with two beds. Amazing because that's just $687.50 per person and remember it come with furniture, bedding and kitchenware. That's a definite steal for a lean startup in such a high-cost area. For an extra $150, users will have access to a full set of amenities, including monthly cleaning, high-speed internet and Verizon cable.
There are plans to have community events like a Happy Hour, Karaoke sessions, available to check out on the WeLive App. The DC area location just opened up in Arlington, Virginia.
Sounds like a perfect startup solution. Certainly, there are similar shops up and running or launching soon in other locations. Keep your eyes and ears peeled for them, folks!