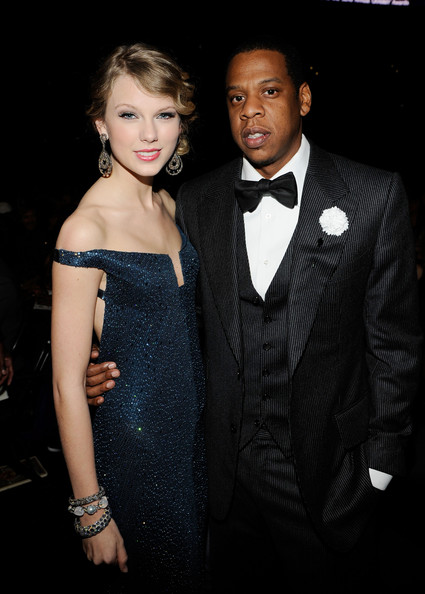 We see folks online comparing Taylor Swift's successful plea to get Apple to pay artists royalties during the free three month trial period of Apple's new streaming service to Jay-Z's Tidal Streaming Service, launched so artists could get more money for their music.
We have a theory.
But first, a quick background:
The former happened when Swift took to her Tumblr page to address Apple's policy for the service that will launch this June 30th on her Tumblr Page:
"Apple Music will not be paying writers, producers, or artists for those three months. I find it to be shocking, disappointing, and completely unlike this historically progressive and generous company. It's not too late to change this policy and change the minds of those in the music industry who will be deeply and gravely affected by this. We don't ask you for free iPhones. Please don't ask us to provide you with our music for no compensation."
And it worked.
Eddy Cue, Apple's lieutenant of CEO Tim Cook tweeted the company's plan to reverse its policy:
We hear you @taylorswift13 and indie artists. Love, Apple

— Eddy Cue (@cue) June 22, 2015
"#AppleMusic will pay artist for streaming, even during customer's free trial period," Cue tweeted "We hear you @taylorswift13 and indie artists. Love, Apple."
Swift explained her position was to help out the up and coming guys who rely on royalties to eat, literally.
Maybe that was mainly her motivation, but whatevs. It's the type of thing you'd want to support and rally around.
Jay-Z launched his Tidal in an ostentatious and flashy fashion attended by co-owners that included all of the mega names in the industry including his wife Beyonce, Madonna, Daft Punk and Nicki Minaj.
Immediately, most who viewed the roll-out's online broadcast were turned off by what they deemed was an elitist event set to introduce a service that will in short have the poor masses paying wealthy musicians more money they think they deserved.
It didn't get better after that.
The backlash was quick intense and painful.
Swift, on the other hand, seemed to be asking in her plea for a wealthy company to pay the little guys like Indie artists.  She wasn't making a request for the commoner to dish out $20 monthly so deserving over-privileged rich folks could eat Filet Mignon twice a week and not just once.
Many in our TechYaYa's offices agreed on the differences: Perhaps had Jay-Z done the same and had a roster of talented rising stars be the face and front of the service, more people would've appreciated the effort and hopped on the wagon, even if they could get the same music from Spotify and Pandora for free.
People love the underdog and will rally behind the upstart. Rich divas that pour $20,000 bottles of champagne inside a bathtub in a music video, not so much.
That's our take anyway. Simplistic but makes sense to us.
photo: Getty